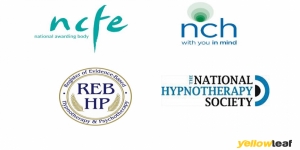 Hypnotherapy in Westminster
Suite Go1, 1 Harley Street,
Westminster, Greater London,
W1G 9QD.
02071129040,
About Us
We will train you to be a certified hypnotherapist. Our training is focused on evidence-based hypnotherapy and we've been teaching this for over 10 years. We offer both a one week Certificate Course in Evidence-Based Hypnotherapy and a three week Diploma Course in Cognitive Behavioural Hypnotherapy. The Certificate Course is BPS approved. The Diploma Course is a full training in clinical hypnotherapy - with a particular focus on treating anxiety and stress management. Establishment: The UK College was founded in April 2003 when the HypnoSynthesis® trademark was officially registered as the brand name for the training in self-hypnosis and personal development being taught by Donald Robertson at that time. The college became an incorporated company in August 2005 (Company No. 05499462). Soon after this, assuming the name The UK College of Hypnosis & Hypnotherapy Ltd(UKCHH), while retaining the brand trading name of HypnoSynthesis®. The trademark Hypno-CBT® (2398937) was registered in 2005 as the brand name for the proprietary system of cognitive-behavioural hypnotherapy developed by Donald Robertson following the publication of his philosophical critique of traditional cognitive-behavioural therapy in The Journal of Practical Philosophy, November 2000. In 2007, the UK College obtained external accreditation from NCFE for the Hypnotherapy Practitioner Diploma award. In 2008 the College designed a customised Diploma qualification in Cognitive-Behavioural Hypnotherapy which is externally awarded by NCFE. We are currently the only training school offering an externally awarded qualification in Cognitive Behavioural Hypnotherapy. In January 2010, the company name was changed to The UK College of Cognitive & Behavioural Therapies Ltd with UKCHH continuing as a division of this. In 2013, prior to Donald and Mandy Robertson emigrating to Canada, the ownership of The UK College of Hypnosis and Hypnotherapy transferred to MindEase Limited, the company founded by the then Vice-Principal, Mark Davis. The UK College of Hypnosis and Hypnotherapy continues to operate now as a division of MindEase Limited and according to the same principles, course materials and direction as those developed by Donald Robertson. Areas we cover: Central London North London Greater London All of the UK.
Our Opening Times / Hours
| Days | Time |
| --- | --- |
| Monday | 9-6 |
| Tuesday | 9-6 |
| Wednesday | 9-6 |
| Thursday | 9-6 |
| Friday | 9-6 |
| Saturday | N/A |
| Sunday | N/A |