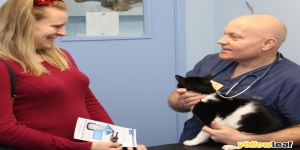 Animal Vets in Leigh
Newlands Road,
Leigh, Greater Manchester,
WN7 4HA.
01942673777,
About Us
Long established and respected veterinary practice dedicated to the treatment and welfare of small animals throughout the Leigh and Wigan areas. We work with dogs, cats, rabbits and many other small furry animals... And we also look after their owners. If you have any questions about your pet then please give us a call.
Services & Products we offer
Vet
Animal hospital
Veterinary surgeon
Cat spaying
Dog neutering
Veterinary care
Veterinary hospital
Our Opening Times / Hours
| Days | Time |
| --- | --- |
| Monday | 9:00-21:00 |
| Tuesday | 9:00-21:00 |
| Wednesday | 9:00-21:00 |
| Thursday | 9:00-21:00 |
| Friday | 9:00-19:00 |
| Saturday | 09:00-15:00 |
| Sunday | 10:00-15:00 |