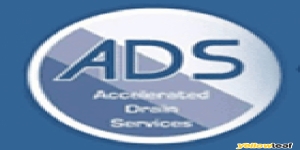 Blocked Drains in Barking
47 Suffolk Rd, Barking, Essex,
Barking, Greater London,
IG11 7QP.
08009557242,
About Us
Accelerated Drain Services are based in London and have fully, qualified & knowledgeable drainage contractors to assist customers with any drainage need. ADS provide the following: CCTV Drain Surveys Home Buyers Drainage Surveys Drain Cleaning Drain Unblocking Drain Pipe Cleaning Drain Surveys Drainage Guttering ADS are proud members of the National Association of Drainage Contractors. Additionally, ADS provide 24 emergency call out service for customers who require immediate assistance with drainage issues. If you would like to know more about our drainage services, please contact us or visit our website.
Services & Products we offer
London Drainage
CCTV Drain Surveys
Home Buyers Drain Surveys
Our Opening Times / Hours
| Days | Time |
| --- | --- |
| Monday | N/A |
| Tuesday | N/A |
| Wednesday | N/A |
| Thursday | N/A |
| Friday | N/A |
| Saturday | N/A |
| Sunday | N/A |